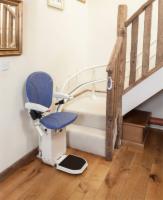 You can enjoy major savings when you purchase the reconditioned version of the AmeriGlide Platinum Curved Stair Lift - Demo. It still comes with a warranty, too!

A stairlift can help you regain more mobility and independence, even if you have a complicated stairway that most lifts can't navigate. The AmeriGlide Platinum Curved Stair Lift - Demo is especially designed to easily handle landings and curves, with a dual-rail leveling system that moves the seat smoothly and gently. Your bespoke specifications are used to hand-build your stairlift to fit your home perfectly.

In addition to the rail system that can be mounted on the stair treads rather than the wall so as not to interfere with your d?cor, the AmeriGlide Platinum Curved Stair Lift - Demo comes with an adjustable seat in your choice of colors to fit with your home's style. You don't have to give up a beautiful look for comfort and safety with this great stairlift. The covered feet give it a finished look, and the custom build allows it to take up as little room as possible.

Retractable safety belts, security sensors that stop the seat when an obstruction is present, and the ability to operate the folding foot rest manually or electronically are just some of the great features and options that can make this stairlift a welcome addition to your home.
Check out the full installation video!